BH-75 7500 lb Straight Line Hoist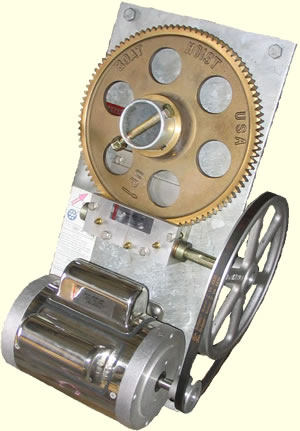 Unit is shown with the optional galvanized back plate and stainless steel East Bay motor.
The BH-75 and 85 are the Boat Hoist USA's premier line of flat plate boat hoists. Simply put, they are the most advanced and best engineered flat-plate hoists on the market. These hoists are in a league of their own as they are the only flat-plate hoists available that features a solid bronze 96 tooth gear with a polished steel enclosed worm gear. The solid bronze worm gear insures that this hoist will run smoother, last longer and require less maintenance than traditional hoists with a 96 tooth cast iron worm gear. The BH-75 is capable of straight line lifts up to 7500lbs. Comes standard with a painted back-plate, 1.5hp Elite motor, lock on switch, 16ft control cable and a 110volt in-plug GFCI. Life Time warranty on the GPA and 1 year on the electric motor and switch.
Available Upgrades:
Galvanized Back Plate
Stainless Steel East Bay Motor
Spring Switch
Call or Text 318-286-9169
Boat Lifts 4 Less
Elm Grove, Louisiana
Boat Hoist USA manufactures the most advanced and best engineered flat-plate hoist on the market today.